PLEASE EXCUSE THE MESS

PHOTOBUCKET MADE HERE.

Aesthetics will improve soon and a brand new

SingLikeYouMeanIt.com is coming.


IN THE MEANTIME,
PLEASE REVIEW COMPLETE DETAILS
BY CHOOSING A CATEGORY
FROM THE ABOVE DROP DOWN BOX. ↑ ↑ ↑
---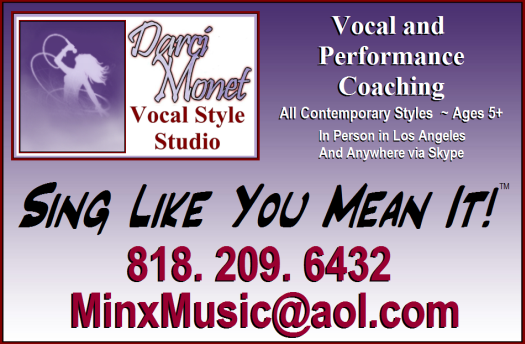 Darci Monet
CAN DO and STILL DOES what she teaches! She is not only an expert vocal coach, but an active professional vocalist, performer and award-winning songwriter. A native upstate New Yorker who started her career in Nashville singing backup for some of
the most accomplished recording artists in the business
, she brings twenty-plus years of formal study, hands-on experience and a joyful, down-to-earth presence to her coaching. Either in person in her studio in L.A. or anywhere in the country via Skype, Darci offers training in contemporary vocal styles using her own "Tech and Truth Method" (half technique, half heart!), basic musicianship, ear training and songwriting consultation. Darci's clients include a 2010 Tony winner
(Million Dollar Quartet)
, currently touring performers
(Rent)
, contestants on American Idol, X-Factor and RuPaul's Drag Race, professional actors and dancers
(Lady Gaga tours, Avatar, American Idol, 24, Fringe, Disney Paris, various commercials, Pandora, XM Radio)
, corporations
(Choice Hotels, Emu Australia)
and several up-and-coming entertainers currently performing in L.A.'s historic rock clubs, cabarets and theaters. She was head judge for a popular local singing competition for two and a half years and her award-winning songs have been heard on television, in independent films and on radio worldwide. Darci recently co-starred in the hit cabaret musical "Chew On This" at the NoHo Arts Center, has two albums out, an official music video for her gospel-flavored inspirational pop song
"Go On"
and was nominated for two
Artists In Music Awards
in 2012. Darci performs all over Los Angeles and often travels for performances and master classes throughout the country.
If it's important to you that your vocal coach has actual real world, hands on experience, Darci Monet is the right fit for you!
To book a session, email
MinxMusic@aol.com or call 818-209-6432.
Calls may be screened, so please be sure to leave a message with your phone number to receive a return call (usually within one business day). Missed calls with no accompanying message are assumed to be wrong numbers and will not be returned. DO NOT TEXT.
LESSONS NOW AVAILABLE ONLINE VIA SKYPE - LIVE!


Want to study with Darci but don't live in L.A.?
Live in L.A. but want to avoid traffic or save gas money?
Perhaps you just want to be home in your pajamas...

No worries!

Skype allows Darci to teach lessons online
so you can learn in the comfort of your own home.
It's compatible with PC as well as Mac AND Skype is FREE!
Contact Darci via the info above for more details.